Fromm A461
The Fromm A461 is a pneumatic powered steel strapping sealer. It is designed for running steel straps of width 3/4" to 1-1/4". This is a highly robust and reliable tool that makes strapping more cost effective. It is perfectly suited for applications involving packages having small and round surface areas. This lightweight tool weighs just 9.3 lbs and its ergonomic design makes it perfect for single hand application. It uses overlap seals and applies double notch upcut joint.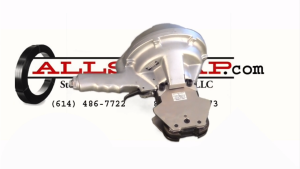 Technical Specifications
The key technical specifications of the Fromm A461 are as follows:
Strap Quality: Steel Strapping
Strap Dimensions: Width 3/4" (19mm) to 1-1/4" (32mm) and thickness 0.025" (0.63mm) to 0.040" (1mm)
Seal Type: Overlap Seals
Joint: Double notch upcut joint
Weight: 9.3 lbs or 4.3 kg
Seal Efficiency: Up to 75%
Uses of Fromm A461
The sealer is perfect for applications involving small surfaces and irregular shaped loads. Its compact size also allows you to work in confined spaces. It finds widespread application in the metals industry for loads like:
Steel coils
Pipes
Beams
Bundles
Bars
The Fromm A461 is also suited for use in the timber industry.
This is a lightweight pneumatic sealer, but you can also suspend it for stationary applications. A spring loaded balancer and a suspension bracket make it possible to be suspended. It features Fromm's proven and reliable superior tensioning force. You can use it with 3/4" to 1-1/4" straps for heavy duty applications in a wide range of environments.
Advantages of Using Fromm A461
Some of the best things about this pneumatic sealer include:
Single hand operation due to its lightweight (9.3 lbs) and ergonomic design
The popular pistol grip design further makes it convenient for long-shift applications by reducing hand fatigue
Applies a reliable upcut double notch joint
Applies seals smoothly and securely
Features a safety system for preventing defective joints because of operator mistakes
The A461 is a widely popular sealer and all its common wear parts are readily available. You may order the parts online or also send the tool for repair and maintenance. Get it repaired by factory certified technicians with years of experience. Quick turnaround ensures that your operations will not have to suffer for long.
Since the Fromm A461 is a sealer and requires a tensioning tool to complete the applications. The A452 from the same brand makes just the ideal complementing tool for this purpose. This tensioner generates up to 1900 lbs of tension and works with 3/4" to 1-1/4" steel straps.